China mobile lead the 4G spectrum assignment, Xiamen Caimore concert 2013 ITU Telecom World
Date:2016-01-04 From:
Keywords: ITU Telecom World 4g spectrum Xiamen Caimore Digital world
The ITU Telecom World will be ended tomorrow in Bangkok, Thailand. This telecommunication global event started on Geneva in 1971, it have over 40 years history till now. It's reported that this is the first time that ITU Telecom World held in South-east. The subject of this telecom world is "Embracing change in a digital world", it means the digital change world has become the hot spot of the world telecommunications.


As the industry navigator of 4g wireless telecommunication, Xiamen Caimore Communication Technology Co.,Ltd. also concern the processing of this ITU Telecom World. During the exhibition, Minister of Industry and Information Technology Wei Miao double confirm that China government will issue the 4g license before the end of this year.The director of Chinese Radio Management Bureau(RMB)Feibo Xie speech content on "TD-LET technology and spectrum conference"about 4g spectrum assignment is extremely remarkable. It also means China TD-LTE spectrum had finished its assignment.According to the result, China Mobile take the lead, it enjoys the 130M spectrum,that's 1880 -1900 MHz、2320-2370 MHz、2575-2635 MHz. While China Unicom and China Telecom each has the TD-LTE spectrum of 40M. China Unicom is 2300-2320 MHz、2555-2575 MHz, and China Telecom is 2370-2390 MHz、2635-2655 MHz.
On facing the hot 4g market, Xiamen Caimore have successful launched 4g serial new products for different carriers. It include the 4g wireless camera system for TD-LTE & FDD-LTE, 4g wireless router, 4g DTU, 4g wireless gateway, 4g RTU, car WIFI cover and GPS terminal related products, etc..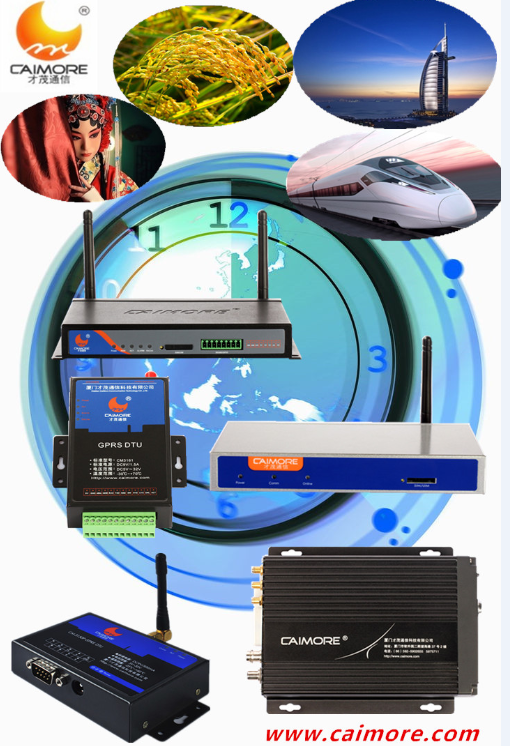 Xiamen Caimore wish "2013 ITU Telecom World" has a successful end, and we also hope can contribute slightly positive for the digital world by our service for home and abroad customers.
By Marketing dept. Of Xiamen Caimore
2013-11-21